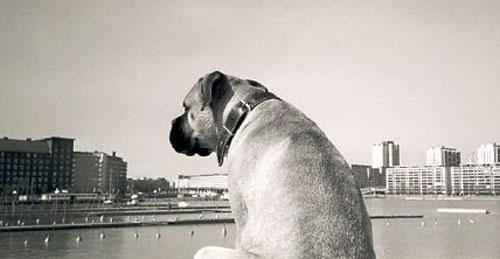 (INT, FIN, S, N & DK CH EuW-97 KBHW-97 FIN W-99&-01 NordicW-99 Enjoyabull Charisma X FIN CH Bulldale Lilac)
07.04.1999 – 27.07.2006
Kasvattaja/breeder: Tiina Orava
lonkat/hips: D/D
kyynärpäät/elbows: 0/0
silmät/eyes: OK
sydän/heart: OK
---
FINNISH & ESTONIAN CHAMPION
LTE +110/Approved character test +110, secure to shots
Kiva Koirakansalainen/Canine Good Citizen
Ensimmäinen bullmastiffi narttu B&M ry:n historiassa, jolle erikoisnäyttelyn BIS1 (2002)
First bullmastiff bitch ever to win Finnish BISS in 2002 out of nine breeds
TOP WINNING BITCH 2002
OBEDIENCE DOG 2002 Finnish Bullmastiff & Mastiff Association
Pelastuskoiraliiton raunio soveltuvuuskoe / SAR aptitude test for debris search (ruins)
---
Kerran elämässä, mikäli onni on myötä, voi jokaisella olla mahdollisuus omistaa se ns. elämänsä koira. Minulla se mahdollisuus on jo käytetty sillä Sylvi on elämäni koira. Ensimmäinen bullmastiffini, jonka kanssa opettelimme yhdessä tokoa, agilityä, hakua ja raunioetsintää. Sylvissä oli enemmän kapasiteettia kuin minulla taitoa viedä sitä eteenpäin. Upealuonteinen harrastuskoira, joka oli myös mahtava esiintyjä kehässä.
Sylvi kuoli imusolmukesyöpään ja nukkui syliini aurinkoisena kesäpäivänä.
Muutamien paheksuma
Useiden ihailema
Inspiraationa lukuisille uusille harrastajille
Minun ikuisesti rakastama
Sanna
Once in a lifetime, if you are lucky, you have a chance to own your "once in a lifetime" dog. For me, that became reality with Sylvi. She was my first bullmastiff and together we learned obedience, agility and SAR forest & rumble search. She had more to give than I ever had skill to get out of her. Great temperament made her an excellent bitch to train and she always did her very best when in the show ring.
Lymph cancer took her and she died in my arms on a sunny summer day.
Frowned upon by some
Admired by most
Inspiration to numerous new breed fanciers
Forever loved by me
Sanna
"I liked this bitch for her absolutely correct breed type. Square and expressive clean head of excellent proportions; nicely arched neck, very good topline and underline, perfect tail set, broad deep chest, straight front, well muscled hindquarters, dense coat of excellent texture, demonstrating an optimal physical and mental disposition and endurance of a true sport dog. Moved exceptionally well and showed to perfection. To have a dog like this is an absolute award."
Mr. Carlos Salas Melero, Spain
Trivia
Sylvi valittiin näyttelyssä parhaaksi nartuksi kahdeksan kertaa eikä se koskaan hävinnyt ROP/VSP kilpailua. Vastassa oli joka kerta eri uros.
Sylvi took Best Bitch eight times. She never lost BOB/BOS challenge. Every time she was against different dog
KIITOS Tiina luottamuksesta / THANK YOU Tiina for trusting me