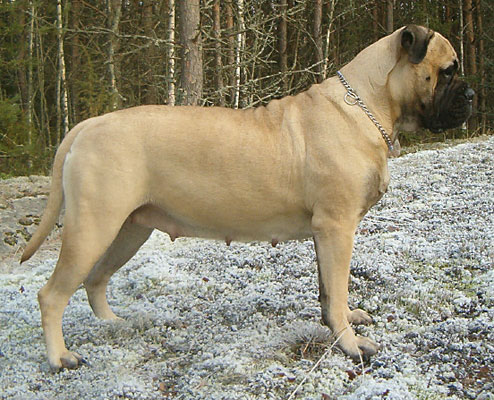 (GB CH Oldwell William X GB CH Brogalan Solo of Oldwell)
Kasvattaja/breeder: Miss Ann Colliass, England
18.11.2002 - 10.05.2010
Kuolinsyy: Imusolmukesyöpä / Cause of death: Lymph cancer
lonkat/hips: D/D
kyynärpäät/elbows: 1/1
silmät/eyes: OK, cilia aberranta
sydän/heart: OK (18.11.2009)

---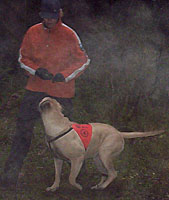 INTERNATIONAL, FINNISH, BALTIC, ESTONIAN, LITHUANIAN & LATVIAN CHAMPION
ESTONIAN WINNER 2005 VSP/BOS
LITHUANIAN MOLOSSEN WINNER 2006 VSP/BOS ...lost to her son:)
TOP WINNING BITCH 2006 #4
LTE +116/Approved character test +116, secure to shots
Crufts qualified 2006 and from there on for life
2 X ROP / BOB
7 X VSP / BOS
7 X SERTI / CC
5 X CACIB
2 X VACA / ResCACIB
Pelastuskoiraliiton maastohaun peruskoe/päivä / SAR forest search basic/day
Pelastuskoiraliiton raunio soveltuvuuskoe / SAR aptitude test for debris search (ruins)
---
Selma on englantilaisen Oldwell –kennelin kasvatti ja Remarkabull E- ja M-pentueiden ylpeä Äitikoira. Selma on ollut erinomainen äidin roolissa ja Selman kahdeksasta pennusta kaikki kuusi pentuiässä näyttelyssä käynyttä pentua on palkittu vuorollaan rodun kauneimpana pentuna. Selmalla on neljä valiojälkeläistä, joiden joukossa myös kansainväliset multivalioveljekset Remarkabull Esprit De Corps ja Remarkabull Envy Why Bother. Selma on Kansainvälinen Muotovalio ja erinomaisen ulkomuodon ja mukavan luonteen lisäksi osoittanut myös työkoiran kykynsä pelastuskoirapuolella.
Kiitos Ann ihanasta koirasta sekä kaikesta siitä tiedosta jota olet Oldwell koirista ystävällisesti jakanut
Selma is bred by English Oldwell –kennel and she is proud Mother of Remarkabull E & M –litters. She has been excellent in taking care of her pups and six of her eight children have been shown in puppy class, all taking BOB-puppy. Selma is mother of four champions, two of them being International Multi Champions - Remarkabull Esprit De Corps & Remarkabull Envy Why Bother. Selma is International Champion herself. Not only is she breed typical outside and has a lovely & officially tested temperament, she has also shown us that bullmastiff is a working dog with her SAR work.
Thank you Ann for this lovely bitch and all the Oldwell information you have kindly shared
Trivia
Selma on hyvin puhelias ja osaa laulaa, haukkua sekä murista käskystä. Selma myös murisee mikäli sillä on jotain sanottavaa... ja sanottavaa on päivittäin...
Selma is very talkative and can sing, bark and growl on command. She also growls when she has something to say... which is every day...