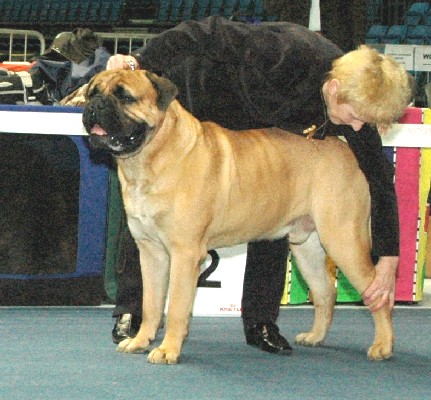 (FIN CH Bulldale Octavius x INT, FIN, BALT, EST, LTU & LV CH Oldwell Harmony)
Omistaja/owner: Hilja Kärner (Viro/Estonia)
Synt / dob 21.11.2004
lonkat/hips: D/D
kyynärpäät/elbows: 0/0
silmät/eyes: OK
sydän/heart: OK (Digital Color Doppler 9.2008)
---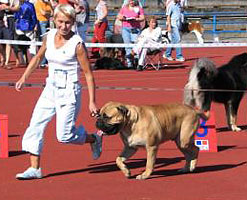 MULTI CH
INTERNATIONAL, FINNISH, ESTONIAN, LATVIAN, LITHUANIAN, BALTIC, BELARUSSIAN, POLISH, SLOVENIAN, RUSSIAN, SWEDISH & ROMANIAN CHAMPION
BALTIC, ESTONIAN, LATVIAN, LITHUANIAN & BELARUSSIAN JUNIOR CHAMPION
LITHUANIAN JUNIORWINNER-06, BALTIC WINNER-06, LITHUANIAN WINNER-07, LATVIAN WINNER-07, ESTONIAN WINNER-07, ESTONIAN WINNER-08 & ESTONIAN WINNER-09
LATVIAN SPECIALITY 2005 BIS1 & BIS1 JUNIOR
ESTONIAN SPECIALITY 2006 BIS2 & BIS1 JUNIOR
LITHUANIAN MOLOSSEN WINNER 2006 ROP/BOB
CUP OF BELARUS JW-06
LATVIAN SPECIALITY 2006 BIS3 JUNIOR
WORLD WINNER 2006 SERTI/CC & WINNER OF INTERMEDIATE DOGS
EUROPEAN WINNER 2006 VARASERTI/RCC
ESTONIAN WINNER 2006 #2
SLOVENIAN SPECIALITY 2007 #2
ESTONIAN SPECIALITY 2007 ROP/BOB & BIS4
EURAASIA WINNER 2007 #2
BALTIC WINNER 2007 #2
FINNISH WINNER 2007 #4
ESTONIAN SPECIALITY 2008 #2
LITHUANIAN WINNER 2008 #2
ESTONIAN SPECIALITY 2009 #3
LATVIAN WINNER 2009 #2
BALTIC WINNER 2009 #4
Crufts qualified 2008 and there on for life
TOP WINNING BULLMASTIFF DOG IN ESTONIA 2005, 2006, 2007 & 2008
TOP WINNING PUPPY DOG 2005
TOP WINNING PUPPY 2005 ALL BREEDS Estonian Mastiff Club
TOP WINNING JUNIOR 2006 ALL BREEDS Pärnu Dog Club
TOP WINNING SHOW DOG 2006 #3 ALL BREEDS Pärnu Dog Club
PARAS PÄÄ/BEST HEAD Estonian Speciality 2007
TOP WINNING SHOW DOG 2007 #2 ALL BREEDS Pärnu Dog Club
29 X ROP/BOB
6 X VSP/BOS
9 X ROP/BOB junior
1 X VSP/BOS junior
28 X SERTI/CC
4 X VARASERTI/RCC
19 X CACIB
8 X VACA/ResCACIB
BISS1, BISS2, BISS4
2 X BISS1 junior & BISS3 junior
3 X RYP/BIG1(Suomi, Ruotsi & Viro / Finland, Sweden & Estonia)
3 X RYP/BIG3
RYP/BIG4
RYP/BIG5
BIS3 pentu/puppy
2 X BIS4 pentu/puppy
---
Porthos on KANS MVA & yhdellätoista valio-, viidellä juniorivaliotittelillään sekä useilla VOITTAJA -tittelillään korkeimmin palkittu Suomessa kasvatettu bullmastiffi rodun historiassa. Koiran lukuisat voitot ja hienot sijoitukset puhuvat omaa kieltään ja Porthos on hyväluonteisena ja iloisena esiintyjänä valloittanut tuomarit ympäri Eurooppaa. Porthos asuu Hiljan luona Virossa rakastettuna perhekoirana ja sillä on kaverina kaksi bullmastiffi urosta.
11 CH and 5 JCH titles + INT CH and sevaral WINNER titles make Porthos the highest titled Finnish bred bullmastiff in the breed history. He is always owner/breeder handled. His numerous wins and placements speak for themselves and Porthos has charmed judges all over Europe with his great temperament and showmanship. Porthos is a loved family member in Hilja's family in Estonia and he lives together with two bullmastiff males.
"I was greatly cheered to see my BOB winner Remarkabull Esprit De Corps arrive because he exemplified what an adult male Bullmastiff should be. Good square skull and broad deep muzzle, strong neck, strong cobby body, good bone and angulation and a powerful movement allied to a wonderfully jolly temperament and there you have a blueprint for the breed."
Mrs. Pamela Jeans-Brown - Estonian Speciality 2007
Trivia
Esprit De Corps tarkoittaa vapaasti käännettynä Valiojoukkojen johtajaa. Porthos on totisesti ollut nimensä väärti!
Esprit De Corps can be translated Leader of the Elite Squad. Porthos has truly lived up to his name!