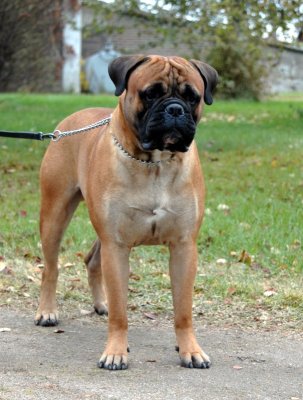 (SE CH Kamek's The Gun x FI LV CH Remarkabull Enjoy I'm Joy)
Omistajat/owners: Marko Höijer & Sanna Vakkilainen
Synt / dob 4.9.2007
lonkat/hips: C/C
kyynärpäät/elbows: 0/0
silmät/eyes: OK
sydän/heart: OK
---
FINNISH, ESTONIAN, BELARUSSIAN & RUSSIAN CHAMPION

VOITTAJA 2008/FINNISH WINNER 2008 ROP/BOB
JUNIORIVOITTAJA 2008/FINNISH JUNIOR WINNER 2008
FINNISH SPECIALITY 2010 #2
ESTONIAN SPECIALITY 2009 #2

Crufts qualified 2009 and 2010
2 X ROP/BOB
2 X VSP/BOS
9 X SERTI/CC
2 X VARASERTI/RCC
3 X CACIB
3 X VACA/ResCACIB
3 X ROP-pentu/BOB-puppy
Andy on sijoitettuna Markon luokse ja jakaa elämänsä kissakaverinsa kanssa.
Andy is co-owned by Marko and shares his life with the family cat.
Trivia
Syntyessään Andylla oli otsassa valkoinen viiru joka katosi koiran ollessa 7 viikon ikäinen. Tästä syystä koiran "työnimenä" kasvattajan luona oli Viiru. Ilman Viirua ei Pesonen olisi saanut nimeään...
When Andy was born, he had a white stripe in his forehead. It disappeared by the 7th week but gave him his "work name" Viiru = Stripe, that was used while still in the whelping box. If not for Stripe, Pesonen had never gotten his name...