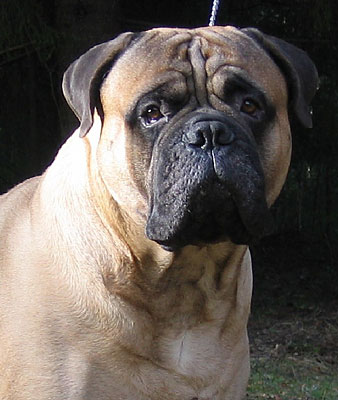 (GB CH Wyburn Obbie X Bulldale Rosemary)
Omistaja/owner: Jukka Eskola
Synt / dob 23.04.2003
lonkat/hips: D/D
kyynärpäät/elbows: 0/0
silmät/eyes: OK
---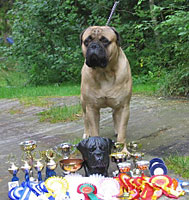 INTERNATIONAL, FINNISH, ESTONIAN & SWEDISH CH
FINNISH WINNER 2004 ROP/BOB
SWEDISH WINNER 2005 ROP/BOB & BIG5
FINNISH SPECIALITY 2004 #2
ESTONIAN WINNER 2005 #2
NORDIC WINNER 2005 #3
FINNISH WINNER 2006 #2
Crufts qualified 2005, 2006 and from there on for life
LTE +140 / Approved character test +140, secure to shots
TOP WINNING BULLMASTIFF IN FINLAND 2004
27 näyttelyä SEITSEMÄN vuoden aikana, palkittu ERIllä JOKAINEN KERTA!/Shown 27 times in SEVEN years, awarded EXCELLENT EVERY TIME!
8 x ROP / BOB
ROP-VETERAANI / BOB VETERAN

1 x VSP / BOS
RYP3 / BIG3
RYP5 / BIG5
9 X SERTI / CC
3 X VARASERTI / RCC
5 X CACIB
3 X VACA / ResCACIB
---
Ensimmäisestä Remarkabull pentueesta sijoitimme yhdessä Tiina Oravan kanssa Aatoksen. Aatos on erittäin hyvin menestynyt näyttelykehässä jo useamman vuoden ajan vaikka koiraa on näyttelytetty aina erittäin kovassa seurassa. Koiran lukuisat voitot ja hienot sijoitukset kertovat upeasta rodunomaisuudesta ja erinomaisesta tyypistä. Aatos rakastaa esiintymistä. Aurinkoinen olemus ja iloisesti kehässä heiluva häntä ovat Aatoksen tavaramerkit. Aatos on sijoituksen umpeuduttua siirtynyt kokonaan Jukan omistukseen ja asuu Jukan ja Anun luona perheen rakastettuna jäsenenä. Sillä on kaverina tyttärenpoikansa Kamek's Heading East, amerikanbulldoggi neiti Ella , kissoja ja useita hevosia.
Aatoksella on pentue Ruotsissa Kamek's bullmastiffien luona.
Aatos has been co-owned by Tiina Orava, Jukka Eskola and myself. Aatos has done very well in the show ring for several years although he has always been against hard competition. His numerous wins and great placements show his true bullmastiff character and excellent type. Aatos loves to show. His sunny disposition and constantly wagging tail are his trademarks in the ring. Aatos is now fully owned by Jukka and lives with Jukka and Anu as a much loved member of the family. He enjoys the company of his grandson Kamek's Heading East, American Bulldog Ella , cats and several horses.
Aatos has a litter in Sweden at Kamek's bullmastiffs.
"High quality dog. Shows breed type. Gives already a finished picture. Impressive head piece. Excellent in all parts. Lovely bone, neck and front. Plenty of rib. Excellent back and loins. Well angulated behind. Lovely conditions. Nice movement with an impressive long stride"
Mr. Bas Bosch – Finnish Winner 2004
Trivia
Remarkabull R-pentueesta oli aikoinaan kovasti kiinnostunut näyttelykoiraa etsivä pariskunta. Aatos ei kuitenkaan kelvannut sillä erittäin tärkeänä valintakriteerinä oli koiran väri, jonka piti olla punainen. Näin ollen fawn Aatos muutti Jukan ja Anun luo… ja siitä tuli Suomen voitokkain bullmastiffi vuonna 2004 :)
Once upon a time there was a couple that was very keen on finding a quality puppy to show. One of their selection criteria was the color that had to be red. Since Aatos was fawn, he wouldn't do. He moved to live with Jukka and Anu… and became Top Winning Bullmastiff 2004 :)